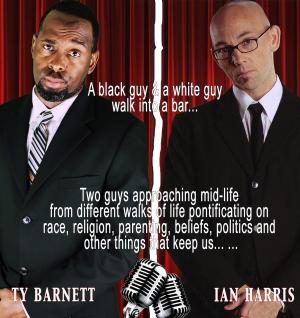 Friday, March 27, 2015 - 8:00pm
Advance tickets: $20 general & $35 preferred with $2 off for Lincoln Theatre Members
A black guy & a white guy walk into a theatre...
 
Two guys approaching mid-life from different walks of life pontificating on race, religion, parenting, beliefs, politics and other things that keep us...DIVIDED
 
If bleak prospects of the general state of the union have given you a case of the winter blues, we suggests that you check out the comedy of Ty Barnett and Ian Harris.  Their "Divided" comedy tour will be at the Lincoln Theater on March 27th and will rip on a wide variety of sacred cows, shibboleths, and carefully preserved beliefs, including the subjects most taboo at the dinner table: race, religion, and politics.
Nothing is off-limits for these guys.  If you watch a few of their YouTube videos you will see Burnett  pimp-walk onto the stage, and tell his audience, "I'm glad gas prices are up, it means drive-by shootings have decreased."  In another, Harris, deadpan, says "I picked up a book called Christianity for Dummies and thought – oh the irony."
 
The two comedians have been compared to such greats as Lenny Bruce, George Carlin, and Richard Pryor.  Skeptical, smart and edgy, "Divided" is a rarity – a comedy show actually designed to make audiences think. Ty Barnett, who has appeared on Last Comic Standing and the Tonight Show, is the cool black dude in newsboy cap and earrings; Ian Harris, from Comedy Central,  the balding and bespectacled hip white guy.  From these widely divergent personas and perspectives the two funny men unite their audiences through shared laughter.  We could use more of that.
 
Presented by 2Tone Productions and the Lincoln Theatre.