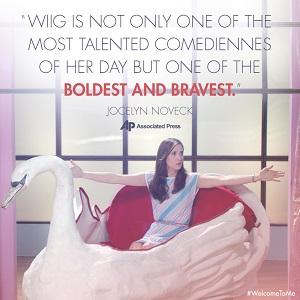 Saturday, Jun 27, 7:30 pm
What happens when a young woman with Borderline Personality Disorder wins the lottery? In the case of Alice Klieg (Kristen Wiig), she quits her psychiatric meds and buys her own talk show. Inspired by the immortal Oprah, she broadcasts her dirty laundry as both a form of exhibitionism and a platform to share her peculiar views on everything from nutrition to relationships to neutering pets.
Starring: Kristen Wiig, Linda Cardellini, Tim Robbins, Wes Bentley and James Marsden
 
Director: Shira Piven
 
All patrons taking part in the Mount Vernon Downtown Association's GIRL'S WEEKEND OUT and RUN LIKE A GIRL will receive a $2.00 discount at all screenings. Just present your wristband or coupon.

 
Wurlitzer Organists:
 
June 26: Nick Nicholai
June 27: Harvey Rossiter
June 28: Glen Des Jardins
June 29: Fred Beeks
 
What the critics are saying:
 
Certified Fresh on Rotten Tomatoes
 
Chicago Sun-Times, Richard Roeper
 
Wiig manages to make Alice funny as hell, endearing, sad and sometimes a little frightening. There's not an ounce of condescension or preciousness in the performance.
 
Variety, Justin Chang
 
A strange and often startlingly inspired media/mental-illness comedy.
 
Time Out New York, David Ehrlich
 
It's obvious that Welcome to Me is about an unusual person, but Shira Piven's dark comedy makes it perfectly clear that the "me" of the title is no mere eccentric. On the contrary, this tragicomic oddity is that rarest of birds: a genuinely funny movie about mental illness.
 
Washington Post, Michael O'Sullivan
 
As she demonstrated in "The Skeleton Twins," the former "Saturday Night Live" comedian has grown so adept at rendering troubled characters without offering sideline commentary that you can't help but fall in love with her, even as laughter gives way to uncomfortable silence.
 
Admission Prices*:
 
General: $10.00
Seniors, Students and Active Military: $9.00
Members: $8.00
Children 12 and under: $7.00
 
Sunday Bargain Prices:
General: $8.00
Members: $6.00
Children 12 and under: $5.00
Add $2.00 to the above prices for 3D screenings.
 
Your membership with the Lincoln Theatre saves you $2.00 per film ticket.
 
*All prices include a $1.50 Preservation Fee that goes directly into our capital account for preservation of the Lincoln Theatre and its programs.
 
Film tickets are only available at the door beginning 45 minutes before the first screening of the day. This saves you, the ticket buyer the fees associated with purchasing online. Never fear – there are plenty of seats!
 
Monday film screenings are part of the Lincoln Theatre Member Mondays! Click here http://www.lincolntheatre.org/benefits-membership for details.
 
Film dates and times are subject to change and extended runs. Please check back here, or our phone message at 360.336.8955, day of show.