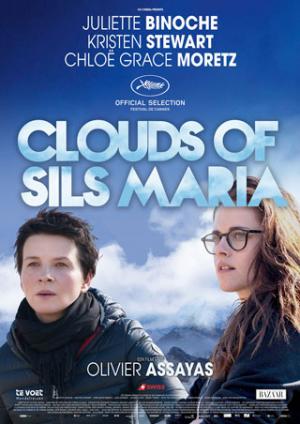 Saturday, Jun 20, 3:00 pm
At the peak of her international career, Maria Enders (Juliette Binoche) is asked to perform in a revival of the play that made her famous twenty years ago. But back then she played the role of Sigrid, an alluring young girl who disarms and eventually drives her boss Helena to suicide. Now she is being asked to step into the other role, that of the older Helena. She departs with her assistant (Kristen Stewart) to rehearse in Sils Maria; a remote region of the Alps. A young Hollywood starlet with a penchant for scandal (Chloë Grace Moretz) is to take on the role of Sigrid, and Maria finds herself on the other side of the mirror, face to face with an ambiguously charming woman who is, in essence, an unsettling reflection of herself.
 
Director: Olivier Assayas
 
Starring: Chloë Grace Moretz, Juliette Binoche, Kristen Stewart
 
Wurlitzer Organists:
 
June 19:  Fred Beeks
June 21: Glen Des Jardins
June 22: Harvey Rossiter
 
What the critics are saying:
 
Certified Fresh on Rotten Tomatoes:
 
Bolstered by a trio of powerful performances from its talented leads, Clouds of Sils Maria is an absorbing, richly detailed drama with impressive depth and intelligence.
 
New York Magazine (Vulture) David Edelstein
 
Assayas's pace is easy, his structure linear: no tricky flashbacks, no jagged cuts. There's so little in the way of histrionics that it's hard to put one's finger on why the film is so terrifically intense — except that each actress is, in her own peculiar way, preternaturally high-strung, able to convey momentous emotional stakes without raising her voice above the pitch of conversation.
 
Boston Globe Ty Burr
 
A meditation on fame, acting, aging, and acceptance, "Clouds" is a multilayered rapture on the subject of woman, performing. Not only does the film demand repeat viewings, it rewards them. San Francisco Chronicle Mick LaSalle It's not a combination most of us would've thought of, but Stewart and Binoche bring out the best in each other.
 
Admission Prices*:
 
General: $10.00
Seniors, Students and Active Military: $9.00
Members: $8.00
Children 12 and under: $7.00
 
Sunday Bargain Prices:
General: $8.00
Members: $6.00
Children 12 and under: $5.00
 
Add $2.00 to the above prices for 3D screenings.
 
Your membership with the Lincoln Theatre saves you $2.00 per film ticket. *All prices include a $1.50 Preservation Fee that goes directly into our capital account for preservation of the Lincoln Theatre and its programs.
 
Film tickets are only available at the door beginning 45 minutes before the first screening of the day. This saves you, the ticket buyer the fees associated with purchasing online.
 
Never fear – there are plenty of seats! Monday film screenings are part of the Lincoln Theatre Member Mondays!
 
Click here for details. Film dates and times are subject to change and extended runs. Please check back here, or our phone message at 360.336.8955, day of show.