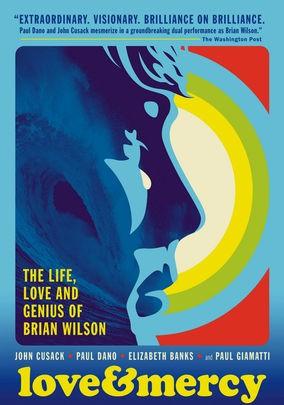 Starring: Paul Dano, Elizabeth Banks, John Cusack, and Paul Giamatti
A chronicle of reclusive Beach Boys songwriter and musician Brian Wilson's life, from his successes with highly-influential orchestral pop albums to his nervous breakdown and subsequent encounter with controversial therapist Dr. Eugene Landy.
Director: Bill Pohlad
Wurlitzer Organists:
July 17: Harvey Rossiter
July 19: Glen Des Jardins
July 20: Harvey Rossiter
What the critics are saying:
San Francisco Chronicle, Mick LaSalle
Love & Mercy captures with striking immediacy the unbound power of the artist in his element.
Village Voice, Stephanie Zacharek
The beauty, and the horror, of Bill Pohlad's exhilarating and inventive Love & Mercy...is the sense it gives us of the world passing through Brian Wilson's ears.
Variety, Andrew Barker
A wonderfully innervating cure for the common musical biopic, Bill Pohlad's Love & Mercy vibrantly illuminates two major breakthroughs — one artistic, one personal — in the life of the Beach Boys' Brian Wilson.
The Playlist, Kevin Jagernauth
Love & Mercy isn't a standard celebration nor a traditional music biopic. Instead, it's a survival story.
The Hollywood Reporter, John DeFore
A deeply satisfying pop biopic whose subject's bifurcated creative life lends itself to an unconventional structure.
Admission Prices*:
General: $10.00
Seniors, Students and Active Military: $9.00
Members: $8.00
Children 12 and under: $7.00
Sunday Bargain Prices:
General: $8.00
Members: $6.00
Children 12 and under: $5.00
Add $2.00 to the above prices for 3D screenings.
Your membership with the Lincoln Theatre saves you $2.00 per film ticket.
*All prices include a $1.50 Preservation Fee that goes directly into our capital account for preservation of the Lincoln Theatre and its programs. Film tickets are only available at the door beginning 45 minutes before the first screening of the day. This saves you, the ticket buyer the fees associated with purchasing online.
Never fear – there are plenty of seats!
Monday film screenings are part of the Lincoln Theatre Member Mondays! Click here http://www.lincolntheatre.org/benefits-membership for details.
Film dates and times are subject to change and extended runs. Please check back here, or our phone message at 360.336.8955, day of show.