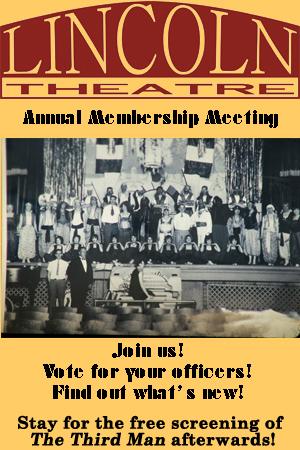 Wednesday, Sep 16, 6:30 pm
All Lincoln Theatre Members in good standing are invited to our annual  Membership Meeting.  At this meeting you will get a brief view of the last year at the Lincoln, our hopes for the future, and a chance to vote on Officers of the Lincoln Theatre Center Foundation for the current year.  To top it off, Members attending the Annual Meeting get to stay FREE for The Third Man, that we'll be screening at 7:30!
 
2014 was year of rebuilding, renewing and reinvented the Lincoln. Last year we predicted 2015 to be our best ever and it did turn out to be an amazing one. We're looking for 2016 to be another stellar year.  We'd like to share it with you, so please try to attend.