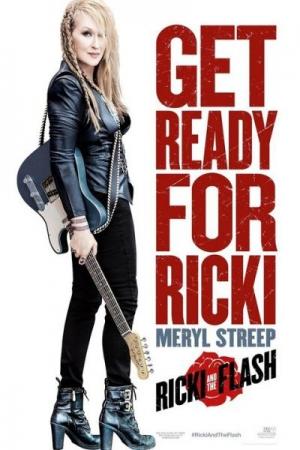 Saturday, Sep 26, 3:00 pm
Running Time: 111 minutes
Three-time Academy Award winner Meryl Streep goes electric and takes on a whole new gig - a hard-rocking singer/guitarist - for Oscar (R)-winning director Jonathan Demme and Academy Award (R)-winning screenwriter Diablo Cody in the uplifting comedy Ricki and the Flash. In a film loaded with music and live performance, Streep stars as Ricki, a guitar heroine who gave up everything for her dream of rock-and-roll stardom, but is now returning home to make things right with her family. Streep stars opposite her real-life daughter Mamie Gummer, who plays her fictional daughter; Rick Springfield, who takes on the role of a Flash member in love with Ricki; and Kevin Kline, who portrays Ricki's long-suffering ex-husband.
 
Director: Jonathan Demme
 
 
Screenplay: Diablo Cody
 
"Without Streep at its centre, this might have seemed a flimsy confection. But she plays the rock singer with the utter conviction and fearlessness that she brings to all her roles, however unlikely they seem."
 
Film Prices:
General: $10.00
Seniors, Students and Active Military: $9.00
Members: $8.00 Children 12 and under: $7.00
 
Sunday Bargain Prices:
General: $8.00
Members: $6.00
Children 12 and under: $5.00
 
Add $2.00 to the above prices for 3D screenings. Your membership with the Lincoln Theatre saves you $2.00 per film ticket.
 
*All prices include a $1.50 Preservation Fee that goes directly into our capital account for preservation of the Lincoln Theatre and its programs.
 
Film tickets are only available at the door beginning 45 minutes before the first screening of the day. This saves you, the ticket buyer the fees associated with purchasing online. Never fear – there are plenty of seats!
 
Monday film screenings are part of the Lincoln Theatre Member Mondays! Click here for details.
 
Film dates and times are subject to change and extended runs. Please check back here,or our phone message at 360.336.8955, day of show.