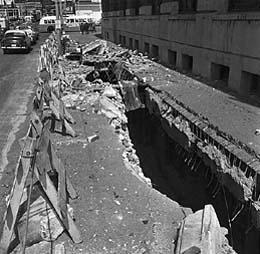 Thursday, Nov 12, 6:30 pm
You may have heard that when the "Really Big One" hits we will be "Toast." Come learn about the real impacts of earthquakes in Skagit and Whatcom Counties.
Learn about these earthquakes impacts and what you, your family, and community can do to prepare.
 Outside Union Station, Seattle 1965
Get the latest findings about the earthquake potentials of the Cascadia Subduction Zone and local crustal faults from experts at a free presentation.  
Tim Walsh, Chief Hazards Geologist, WA Department of Natural Resources:

Bill Steele, Seismologist, Pacific Northwest Seismic Network, UW

Rebekah Paci-Green, Director of Resilience Institute, WWU
Get your questions answered.
Presented by Skagit County Department of Emergency Management.