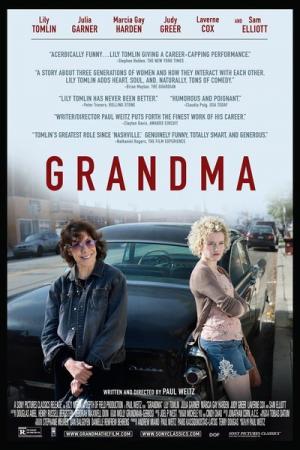 Saturday, Nov 28, 7:30 pm
Elle Reid (Lily Tomlin) has just gotten through breaking up with her girlfriend when Elle's granddaughter Sage unexpectedly shows up needing $600 bucks before sundown. Temporarily broke, Grandma Elle and Sage spend the day trying to get their hands on the cash as their unannounced visits to old friends and flames end up rattling skeletons and digging up secrets.
 
Director: Paul Weitz
 
Starring: Lily Tomlin, Elizabeth Peña, Judy Greer, Julia Garner, Laverne Cox,  Marcia Gay Harden, Sam Elliott, and Nat Wolff
 
What the critics are saying:
 
Certified Fresh on Rotten Tomatoes
 
Boasting a stellar performance from Lily Tomlin and some powerfully empathetic work from writer-director Paul Weitz, Grandma is a dramedy that shouldn't have to ask you to visit.
 
David Lewis
San Francisco Chronicle
 
Lily Tomlin has been one of our best comedic actresses for the past 50 years, and she's at the height of her powers in the beautifully observed dramedy Grandma. Her performance is funny, acerbic, touching — and ultimately, exhilarating.
New York Post
Lou Lumenick
 
Tomlin and Elliot relive their characters' pain and anger so deeply that they could very well both end up with Oscar nominations.
 
The New York Times
A.O. Scott
 
There is much to praise about this sweet, smart comedy of intergenerational conflict and solidarity.... But honestly, the wonder that is Grandma can be summed up in two words: Lily Tomlin.
 
Film Prices:
 
General: $10.00
Seniors, Students and Active Military: $9.00
Members: $8.00
Children 12 and under: $7.00
 
Sunday Bargain Prices:
 
General: $8.00
Members: $6.00
Children 12 and under: $5.00
 
Add $2.00 to the above prices for 3D screenings.
 
Your membership with the Lincoln Theatre saves you $2.00 per film ticket.
 
*All prices include a $1.50 Preservation Fee that goes directly into our capital account for preservation of the Lincoln Theatre and its programs. Film tickets are only available at the door beginning 45 minutes before the first screening of the day. This saves you, the ticket buyer the fees associated with purchasing online. Never fear – there are plenty of seats!
 
Monday film screenings are part of the Lincoln Theatre Member Mondays! Click here  for details.
 
Film dates and times are subject to change and extended runs. Please check back here, or our phone message at 360.336.8955, day of show.