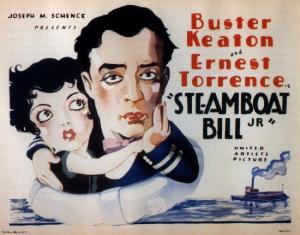 Saturday, Apr 23, 7:30 pm
Nick Nicolai will be featured on the Mighty Wurlitzer for this evening's screening! Fred Beeks, Harvey Rossiter, and Katie Moyer will perform during the pre-show. 
We'll wrap up the evening with Birthday Cake and refreshments.
All of this entertainment for our opening night price of only 35 cents! Arrive early!
Tonight's film will be the first in a series of "Best Films by Decade" (with admission prices of the era) for each month throughout the rest of 2016!
Steamboat Bill Jr.
In this silent comedy, college boy William Canfield Jr. (Buster Keaton) reunites with his boat captain father in a Mississippi River town. Though he's flummoxed by Willie's citified appearance, the elder Canfield seems to have found an ally to help him compete with fellow riverboat owner John James King (Tom McGuire). Willie finds himself falling for King's daughter, Mary (Marion Byron), but he has more pressing concerns when the weather turns bad and his father in arrested.
The film is punctuated by Keaton's single most famous stunt: He stands in the street, making his way through the destruction from a cyclone, when an entire building facade collapses onto him. The open attic window fits neatly around Keaton's body as it falls, coming within inches of flattening him. (Keaton had performed a similar, though smaller scale, stunt eight years earlier in the short film One Week which opens the evening). Keaton did the stunt himself with a real, two-ton building facade and no trickery. It has been claimed that if he had stood just inches off the correct spot, Keaton would have been seriously injured or killed.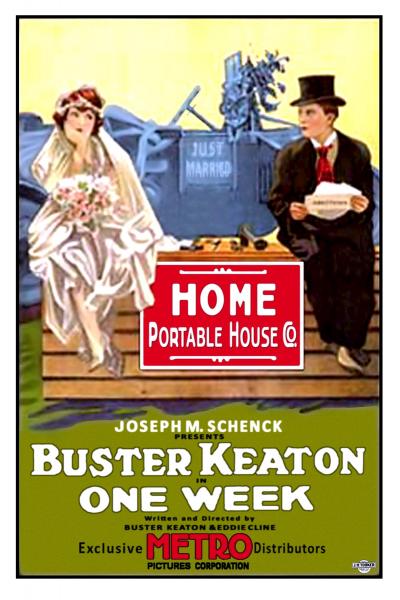 One Week
The story involves two newlyweds, Keaton and Sybil  Seely, who receive a build-it-yourself house as a wedding gift. The house can be built, supposedly, in "one week". A rejected suitor secretly re-numbers packing crates. The movie recounts Keaton's struggle to assemble the house according to this new "arrangement". The end result is depicted in the picture. As if this were not enough, Keaton finds he has built his house on the wrong site and has to move it. The movie reaches its tense climax when the house becomes stuck on railroad tracks. Keaton and Seely try to move it out the way of an oncoming train, which eventually passes on the neighboring track. As the couple look relieved, the house is immediately struck and demolished by another train coming the other way. Keaton stares at the scene, places a 'For Sale' sign with the heap (attaching the building instructions) and walks off with Seely.
Thanks to Fred and Eva Beeks for their help sponsoring this evening's entertainment!