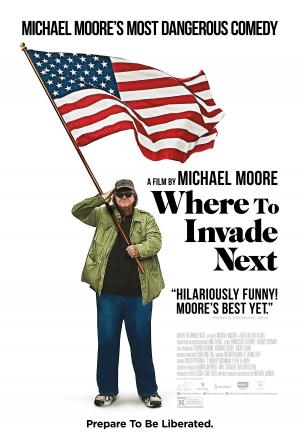 Saturday, Mar 26, 7:30 pm
Where to Invade Next is an expansive, rib-tickling, and subversive comedy in which Moore, playing the role of "invader," visits a host of nations to learn how the U.S. could improve its own prospects. The creator of Fahrenheit 9/11 and Bowling for Columbine is back with this hilarious and  eye-opening call to arms. Turns out the solutions to America's most entrenched problems already existed in the world - they're just waiting to be co-opted.
 
Director: Michael Moore
 
What the critics are saying:
 
RogerEbert.com, Godfrey Cheshire
 
In my view, it's one of the most genuinely, and valuably, patriotic films any American has ever made.
 
indieWIRE, Eric Kohn
 
Five years after his rambling "Capitalism: A Love Story," the filmmaker bounces back from one of his worst films with one of his best — a surprisingly endearing set of suggestions for a better tomorrow.
 
Variety, Justin Chang
 
There's something undeniably sharp and buoyant about Moore's globe-trotting, grass-is-greener approach that compels indulgence and attention.
 
 Village Voice, Amy Nicholson
 
By exposing his soft belly, the aging documentarian is reconquering his own legacy. He's spent 25 years bellowing about our problems. Now it's time to solve them. If we don't think we can, just remember Berlin.
 
At the Wurlitzer:
 
Friday, March 25 Harvey Rossiter
 
Saturday, March 26th  Fred Beeks
 
Sunday, March 27  Glen Des Jardins
 
Monday,  March 28 Fred Beeks
 
Film Prices:
 
General: $10.00
Seniors, Students and Active Military: $9.00
Members: $8.00
Children 12 and under: $7.00
 
Sunday Bargain Prices:
 
General: $8.00
Members: $6.00
Children 12 and under: $5.00
 
Add $2.00 to the above prices for 3D screenings.
 
Your membership with the Lincoln Theatre saves you $2.00 per film ticket.
 
*All prices include a $1.50 Preservation Fee that goes directly into our capital account for preservation of the Lincoln Theatre and its programs. Film tickets are only available at the door beginning 45 minutes before the first screening of the day. This saves you, the ticket buyer the fees associated with purchasing online. Never fear – there are plenty of seats!
 
Monday film screenings are part of the Lincoln Theatre Member Mondays! Click here  for details.
 
Film dates and times are subject to change and extended runs. Please check back here, or our phone message at 360.336.8955, day of show.