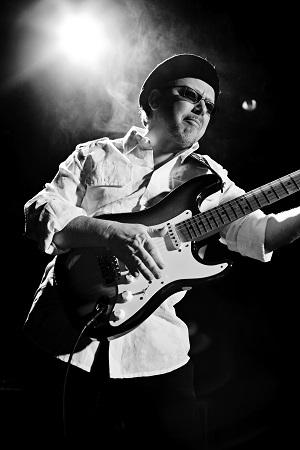 Saturday, May 28, 2016 - 7:30pm
Advance festival seating tickets: $25 with $2 off for Lincoln Theatre and REFA members.
Portland, Oregon roots artist Lloyd Jones has recorded six critically acclaimed albums, toured internationally, and racked up dozens of major awards and accolades. He's a relentless road dog, hitting festival stages, Delbert's annual Sandy Beaches Cruises (he's been a regular on six winter cruises), and clubs all across the land to enthusiastic crowds who can't get enough of his swampy blues, his backporch picking, his serious-as-anthrax funk, soul, roadhouse two-beats, and old-school rhythm and blues.
 
Jones is a master of the soulful understatement, the raw growl, and the groove. From his roots in muddy Oregon soil, he's forged a 30-plus-year career as an impassioned singer and fierce guitar slinger, a clever and soulful songwriter, a bandleader, record producer, and an almost strident torchbearer for all that's true and good about America's music. Jones is his own true artist who works diligently at pushing American roots music forward.
 
What he does, he says, is "combine New Orleans rhythms, the simplicity of Memphis music, and the rawness of the blues, all for the 21st century. This music is not about louder and faster. It's about time, meter, groove. I thought Muddy and Walter and those guys were pushing the envelope in their era. They were using effects, they were inventing their own sound. They were modern. I want to look at it in a contemporary way." The gist is all the same — Lloyd Jones is the total package.
 
Consider this: Robert Cray sings his praises the way Sister Rosetta Tharpe sang gospel. Delbert McClinton won't cruise the high seas without him. Clarence "Gatemouth" Brown, Joe Louis Walker and Coco Montoya saw fit to record his songs. He counts McClinton, Charlie Musselwhite, Marcia Ball, Bonnie Raitt, Tommy Castro, Jimmy Hall and other luminaries among his friends and musical cohorts, and can tell you stories that'll curl your toes about touring with the likes of Earl King, Big Mama Thornton, Otis Clay, Etta James and scores of others.
 
Jones is a gifted singer, songwriter, American storyteller and energetic showman. He writes timeless music, steeped in a rich musical history that he's learned, lived and loved over the years. "This is not a work of science," he says. "It's about attitude and joy that applies to all age groups. I'm addicted to this music."
 
Lloyd Jones and his timeless, swampified American songwriting style is tailor-made for dancing like crazy people on a Saturday night. Jones is no poser, no youngster who copped a couple of quick blues licks and headed for the big time with a cocky swagger and a brand-new Strat. You see it in his face when he plays — the ear-to-ear grin, the soul-gripping grimace when he bites off another stinging note. You hear it in every heart-aching lyric, sung in a voice that genuinely shares with you life's hard knocks and hard-won secrets. Many roots heavyweights, not to mention legions of CD-buying fans, sing his praises. Give him a listen, and you will too.
 
Lloyd Jones is a co-presention of the Lincoln Theatre and the Rick Epting Foundation for the Arts.