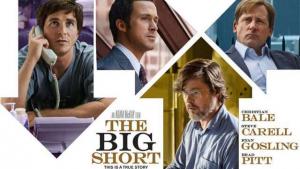 After a long run at the cineplex we finally booked one of the best films of 2015, The Big Short, as promised!.
 
When four outsiders saw what the big banks, media and government refused to, the global collapse of the economy, they had an idea: The Big Short. Their bold investment leads them into the dark underbelly of modern banking where they must question everyone and everything.
 
Starring: Brad Pitt, Christian Bale, Hamish Linklater, John Magaro, Melissa Leo, Rafe Spall, Ryan Gosling, and Steve Carell.
 
Director: Adam McKay
 
Certified Fresh on Rotten Tomatoes
 
"The Big Short approaches a serious, complicated subject with an impressive attention to detail -- and manages to deliver a well-acted, scathingly funny indictment of its real-life villains in the bargain."
 
 
Charlotte Observer
Lawrence Toppman
 
The Big Short, which he directed and wrote with Charles Randolph from the book by Michael Lewis, jumps off the screen in every scene and pins an elusive subject firmly in place.
 
  
St. Louis Post-Dispatch
Calvin Wilson
 
The Big Short is the film that "The Wolf of Wall Street" wanted to be.
 
 
Wall Street Journal
Joe Morgenstern
 
Only in America, though, could filmmakers illuminate such a dire subject, and the financial debacle that ensued, with the sort of scathing wit, joyous irreverence and brilliant boisterousness that make The Big Short an improbable triumph.
 
 
The New York Times
A.O. Scott
 
A true crime story and a madcap comedy, a heist movie and a scalding polemic, The Big Short will affirm your deepest cynicism about Wall Street while simultaneously restoring your faith in Hollywood.
 
 
Film Prices:
General: $10.00
Seniors, Students and Active Military: $9.00
Members: $8.00
Children 12 and under: $7.00
 
Sunday Bargain Prices:
 
General: $8.00
Members: $6.00
Children 12 and under: $5.00
 
Add $2.00 to the above prices for 3D screenings.
 
Your membership with the Lincoln Theatre saves you $2.00 per film ticket.
 
*All prices include a $1.50 Preservation Fee that goes directly into our capital account for preservation of the Lincoln Theatre and its programs. Film tickets are only available at the door beginning 45 minutes before the first screening of the day. This saves you, the ticket buyer the fees associated with purchasing online. Never fear – there are plenty of seats!
Monday film screenings are part of the Lincoln Theatre Member Mondays! Click here http://www.lincolntheatre.org/benefits-membership for details.
Film dates and times are subject to change and extended runs. Please check back here, or our phone message at 360.336.8955, day of show.