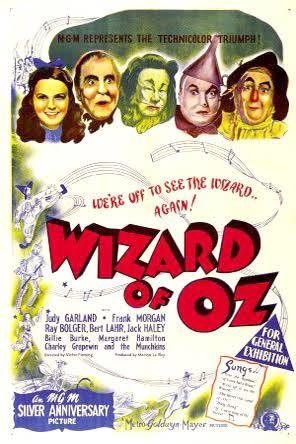 The second film in our 90th Anniversary Series! All seats 1939 prices: 50 cents!
 
An absolute masterpiece whose groundbreaking visuals and deft storytelling are still every bit as resonant, The Wizard of Oz is a must-see film for young and old. Certified Fresh, Rotten Tomatoes
 
In this charming film based on the popular L. Frank Baum stories, Dorothy and her dog Toto are caught in a tornado's path and somehow end up in the land of Oz. Here she meets some memorable friends and foes in her journey to meet the Wizard of Oz who everyone says can help her return home and possibly grant her new friends their goals of a brain, heart and courage.
Starring: Judy Garland, Bert Lahr,  Billie Burke,  Frank Morgan,  Jack Haley, and Ray Bolger
Director: George Cukor and  King Vidor and Mervyn LeRoy and  Norman Taurog and Victor Fleming