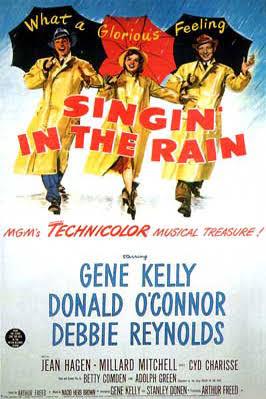 The Lincoln Theatre presents 90TH ANNIVERSARY CELEBRATION – SINGIN' IN THE RAIN on Saturday, July 9, at 5:00 pm for the 1950s admission price of $1.50.
 
In this classic movie musical, a silent film production company and cast make a difficult transition to sound.
 
Starring: Gene Kelly, Donald O'Connor and Debbie Reynolds.
 
Director: Stanley Donen , Gene Kelly
 
What the critics say:
 
Mark Bourne, Film.com
 
...this one's the Taj Mahal, Armstrong's footprint on the moon, the 2001 Arizona-New York World Series, the Clash's London Calling, and the perfect foamy head on an expertly poured Guinness.
 
Dave Kehr, Chicago Reader
 
One of the shining glories of the American musical.
 
Stephen Garrett, Time Out
 
If you've never seen it and don't, you're bonkers. Bosley Crowther, New York Times Compounded generously of music, dance, color, spectacle and a riotous abundance of Gene Kelly, Jean Hagen and Donald O'Connor on the screen, all elements in this rainbow program are carefuly contrived and guaranteed to...put you in a buttercup mood.