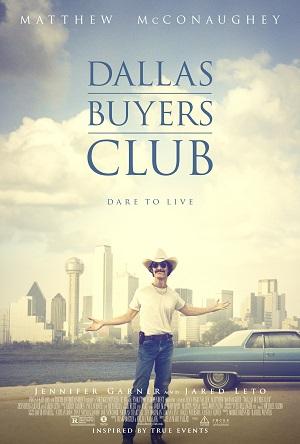 Loosely based on the true-life tale of Ron Woodroof, a drug taking, women loving, homophobic man who, in 1985 was diagnosed with full blown HIV/AIDS and given thirty days to live. He started taking the FDA approved AZT, the only legal drug available in the U.S, which brought him to the brink of death. To survive, he smuggled non-toxic, anti-viral medications from all over the world yet still illegal in the U.S. Other AIDS patients sought out his medications forgoing hospitals, doctors and AZT. With the help of his doctor, Eve Saks and a fellow patient, Rayon, Ron unintentionally created the Dallas Buyers Club, the first of dozens which would form around the country, providing its paying members with these alternative treatments. The clubs, growing in numbers and clientele, were brought to the attention of the FDA and pharmaceutical companies which waged an all out war on Ron.
 
Director: Jean-Marc Vallée
 
Starring: Matthew McConaughey, Jennifer Garner, Griffin Dunne, Jared Leto, Steve Zahn
 
What the Critics are saying:
 
Certified Fresh on Rotten Tomatoes:
 
"Dallas Buyers Club rests squarely on Matthew McConaughey's scrawny shoulders, and he carries the burden gracefully with what might be a career-best performance."
 
Movie Nation
Roger Moore
Dallas Buyers Club is one of the best pictures of the year. 
 
 
Washington Post
Ann Hornaday
 
Vallée, working with a lean, lively script by Craig Borten and Melisa Wallack, neatly avoids excess, letting Woodroof's terrific yarn stand on its own and getting out of the way of his extraordinary actors, who channel the story without condescension or manipulative cheats. 
 
 
Salon.com
Andrew O'Hehir
Despite its clichéd elements, Dallas Buyers Club is a fierce celebration of the unpredictable power that belongs to the outcast, the despised, the pariah. That's not a story of the '80s, it's a story of always. 
 
 
New York Observer
Rex Reed
Dallas Buyers Club represents the best of what independent film on a limited budget can achieve — powerful, enlightening and not to be missed. 
 
 
Village Voice
Stephanie Zacharek
What's remarkable about Dallas Buyers Club is its lack of sentimentality. The movie, like its star, is all angles and elbows, earning its emotion through sheer pragmatism. 
 
Variety
Peter Debruge
The film manages to educate without ever feeling didactic, and to entertain in the face of what would, to any other character, seem like a grim life sentence.
 
Admission Prices*:
General: $10.00
Seniors, Students and Active Military: $9.00
Members: $8.00
Children 12 and under: $7.00
Bargain Matinee Prices (all shows before 6:00pm)
General: $8.00
Members: $6.00
Children 12 and under: $5.00
 
Your membership with the Lincoln Theatre saves you $2.00 per film ticket.
 
*All prices include a $1.50 Preservation Fee that goes directly into our capital account for preservation of the Lincoln Theatre and its programs. Film tickets are only available at the door beginning 45 minutes before the first screening of the day. This saves you, the ticket buyer the fees associated with purchasing online. Never fear – there are plenty of seats!
 
Monday film screenings are part of the Lincoln Theatre Member Mondays! Click here for details.
 
Film dates and times are subject to change and extended runs. Please check back here, or our phone message at 360.336.8955, day of show.