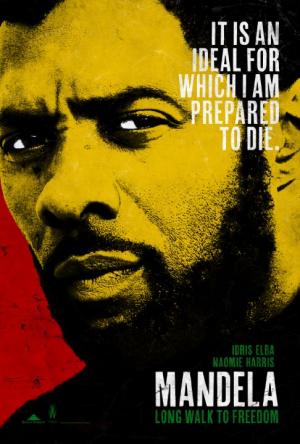 Mandela: Long Walk to Freedom is based on South African President Nelson Mandela's autobiography of the same name, which chronicles his early life, coming of age, education and 27 years in prison before becoming President and working to rebuild the country's once segregated society. Idris Elba (Prometheus) stars as Nelson Mandela with Justin Chadwick (The Other Boleyn Girl) directing.
Director:  Justin Chadwick
 
Starring: Idris Elba, Garth Breytenbach, Grant Swanby, Mark Elderkin, Naomie Harris, Robert Hobbs, Terry Pheto and Theo Landey.
What the Critics are saying:
The New York Times
Stephen Holden
 
"Mr. Elba's towering performance lends "Long Walk to Freedom" a Shakespearean breadth."
 
 
The Telegraph
David Gritten
"With the magnificent Elba to anchor it, the film gradually achieves a sort of grandeur, in the manner of the hero it depicts."
 
 
San Francisco ChroniclE
Mick LaSalle
"Elba's performance is commanding and physically meticulous. As he ages through the film, he takes on the stiff gracefulness of the elderly Mandela, so familiar to us from news footage." 
 
Philadelphia Inquirer
Steven Rea
"A conventional biopic made anything but conventional by the magnitude of its subject's life and accomplishments, and by Idris Elba's imposing performance in the title role."
 
Chicago Sun-Times
Richard Roeper
"Elba captures the fire and the passion of Mandela the young activist, the resilience of Mandela the political prisoner, and the wisdom and astonishing capacity of forgiveness of Mandela the elder statesman."
 
Admission Prices*:
General: $10.00
Seniors, Students and Active Military: $9.00
Members: $8.00
Children 12 and under: $7.00
Bargain Matinee Prices (all shows before 6:00pm)
General: $8.00
Members: $6.00
Children 12 and under: $5.00
 
Your membership with the Lincoln Theatre saves you $2.00 per film ticket.
 
*All prices include a $1.50 Preservation Fee that goes directly into our capital account for preservation of the Lincoln Theatre and its programs. Film tickets are only available at the door beginning 45 minutes before the first screening of the day. This saves you, the ticket buyer the fees associated with purchasing online. Never fear – there are plenty of seats!
 
Monday film screenings are part of the Lincoln Theatre Member Mondays! Click here for details.
 
Film dates and times are subject to change and extended runs. Please check back here, or our phone message at 360.336.8955, day of show.