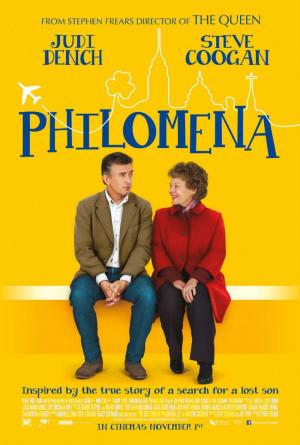 Wednesday, Mar 5, 7:30 pm
The Lincoln is happy to announce that we've booked Philomena. We had to guarantee a week long run, so we are hoping to fill the house every night. Philomena has received four Academy Award Nominations including Best Picture and Best Actress. We are screening our Sunday bargain show at 3:00pm so you'll have time to get home for the Oscars.
Based on the 2009 investigative book by BBC correspondent Martin Sixsmith, The Lost Child of Philomena Lee, Philomena focuses on the efforts of Philomena Lee, mother to a boy conceived out of wedlock - something her Irish-Catholic community didn't have the highest opinion of - and given away for adoption in the United States.
In following church doctrine, she was forced to sign a contract that wouldn't allow for any sort of inquiry into the son's whereabouts. After starting a family  years later in England and, for the most part, moving on with her life, Lee meets Sixsmith, a BBC reporter with whom she decides to discover her long-lost son. 
Director:  Stephen Frears
 
Starring: Judi Dench, Steve Coogan   
What the Critics are saying:
Certified Fresh on Rotten Tomatoes
"Based on a powerful true story and led by note-perfect performances from Judi Dench and Steve Coogan, Philomena offers a profoundly affecting drama for adult filmgoers of all ages."
 
New York Observer
Rex Reed
"It's profoundly moving and thoroughly mind provoking, but despite the poignant subject matter, I promise you will not leave Philomena depressed. I've seen it twice and felt exhilarated, informed, enriched, absorbed and optimistic both times."
 
Empire
Damon Wise
 
"A terrific, sophisticated comedy that tackles serious issues with a lightness of touch and a spirit of steel, Philomena is the British film to beat come BAFTA time."
Portland Oregonian
Marc Mohan
"Effective, fact-based melodrama that packs an unexpected emotional wallop."
 
Entertainment Weekly
Chris Nashawaty
"Dench and Coogan's chemistry is undeniably great. In the end, he manages to give her the answers she seeks and she manages to give him a heart."
 
The Hollywood Reporter
Deborah Young
"Stephen Frears is in full possession of his filmmaking talent in Philomena, one of his most pulled-together dramas in years."
 
Time
Mary Corliss
"Getting full comic effect from its class-comedy abrasions, Philomena rises to poignancy and profundity as Dench reveals her control of a character stained by the loss of her child and troubled by her suspicion."
 
Admission Prices*:
General: $10.00
Seniors, Students and Active Military: $9.00
Members: $8.00
Children 12 and under: $7.00
Bargain Matinee Prices (all shows before 6:00pm)
General: $8.00
Members: $6.00
Children 12 and under: $5.00
Add $2.00 to the above prices for 3D screenings.
 
Your membership with the Lincoln Theatre saves you $2.00 per film ticket.
 
*All prices include a $1.50 Preservation Fee that goes directly into our capital account for preservation of the Lincoln Theatre and its programs. Film tickets are only available at the door beginning 45 minutes before the first screening of the day. This saves you, the ticket buyer the fees associated with purchasing online. Never fear – there are plenty of seats!
 
Monday film screenings are part of the Lincoln Theatre Member Mondays! Click here for details.
 
Film dates and times are subject to change and extended runs. Please check back here, or our phone message at 360.336.8955, day of show.