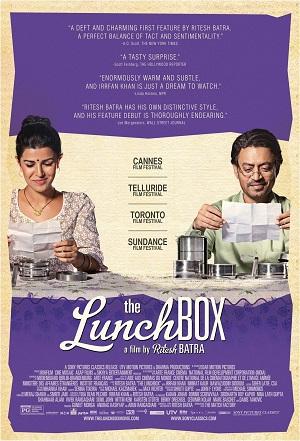 Saturday, May 31, 7:30 pm
Middle class housewife Ila is trying once again to add some spice to her marriage, this time through her cooking. She desperately hopes that this new recipe will finally arouse some kind of reaction from her neglectful husband. She prepares a special lunchbox to be delivered to him at work, but, unbeknownst to her, it is mistakenly delivered to another office worker, Saajan, a lonely man on the verge of retirement. Curious about the lack of reaction from her husband, Ila puts a little note in the following day's lunchbox, in the hopes of getting to the bottom of the mystery. This begins a series of lunchbox notes between Saajan and Ila, and the mere comfort of communicating with a stranger anonymously soon evolves into an unexpected friendship.
Gradually, their notes become little confessions about their loneliness, memories, regrets, fears, and even small joys. They each discover a new sense of self and find an anchor to hold on to in the big city of Mumbai that so often crushes hopes and dreams. Still strangers physically, Ila and Saajan become lost in a virtual relationship that could jeopardize both their realities.
 
Director:  Ritesh Batra
 
Starring:  Irrfan Khan, Lillete Dubey, Nimrat Kaur
 
What the critics are saying:
 
Certified Fresh on Rotten Tomatoes
 
"Warm, affectionate, and sweet but not cloying, The Lunchbox is a clever crowd-pleaser from first-time director Ritesh Batra."
 
Los Angeles Times
Kenneth Turan
One thing that makes Lunchbox so strong is that a touch of melancholy hangs over its sweetness. Finally this is a film about the wheel of life, about what helps us cope with its turns and find our way in its unforgiving labyrinth
 
Chicago Sun-Times
Mary Houlihan
The Lunchbox, Indian director Ritesh Batra's debut, is a witty and perceptive film that reveals the hopes, sorrows and regrets of ordinary people.
 
Portland Oregonian
Marc Mohan
A crowd-pleasing import that would leave only the most steadfast curmudgeon unmoved.
 
New Orleans Times-Picayune
Mike Scott
Khan in particularly is wonderful in Batra's film, which takes the time to indulge in quiet moments that Khan expertly fills with his expressive face and sense ease in front of a camera.
 
NPR
Bob Mondello
The Lunchbox is a first feature for director Ritesh Batra, but it nicely captures the almost overwhelming crush and noise of contemporary India, and it plays cleverly and delicately with the tension of whether its two correspondents might eventually meet. Theirs is one "virtual" romance that has nothing to do with social media.
 
Wall Street Journal
Joe Morgenstern
Wonderfully fresh and affecting fable from India.
 
Admission Prices*:
General: $10.00
Seniors, Students and Active Military: $9.00
Members: $8.00
Children 12 and under: $7.00
Bargain Matinee Prices (all shows before 6:00pm)
General: $8.00
Members: $6.00
Children 12 and under: $5.00
Add $2.00 to the above prices for 3D screenings.
 
Your membership with the Lincoln Theatre saves you $2.00 per film ticket.
 
*All prices include a $1.50 Preservation Fee that goes directly into our capital account for preservation of the Lincoln Theatre and its programs. Film tickets are only available at the door beginning 45 minutes before the first screening of the day. This saves you, the ticket buyer the fees associated with purchasing online. Never fear – there are plenty of seats!
 
Monday film screenings are part of the Lincoln Theatre Member Mondays! Click here for details.
 
Film dates and times are subject to change and extended runs. Please check back here, or our phone message at 360.336.8955, day of show.