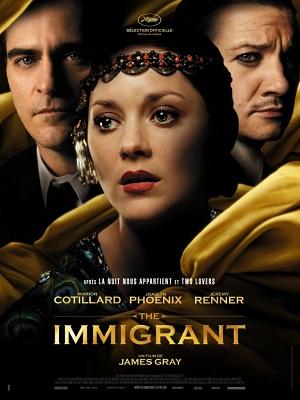 Saturday, Jul 12, 7:30 pm
Ewa Cybulski and her sister sail to New York from their native Poland in search of a new start and the American dream. When they reach Ellis Island, doctors discover that Magda is ill, and the two women are separated. Ewa is released onto the mean streets of Manhattan while her sister is quarantined. Alone, with nowhere to turn and desperate to reunite with Magda, Ewa quickly falls prey to Bruno, a charming but wicked man who takes her in and forces her into prostitution. The arrival of Orlando - a dashing stage magician who is also Bruno's cousin - restores her self-belief and hopes for a brighter future, becoming her only chance to escape the nightmare in which she finds herself.
 
Director: James Gray
 
Cinematography: Darius Khondji
 
Music composed by: Chris Spelman
 
Screenplay: James Gray, Ric Menello
 
Cast: Marion Cotillard (Ewa Cybulski), Joaquin Phoenix (Bruno Weiss): Jeremy Renner (Orlando the Magician): Dagmara Domińczyk (Belva): Angela Sarafyan (Magda Cybulski)
 
What the critics are saying:
 
Certified Fresh on Rotten Tomatoes
 
"Beautiful visuals, James Gray's confident direction, and a powerful performance from Marion Cotillard combine to make The Immigrant a richly rewarding period drama."
San Francisco Chronicle
G. Allen Johnson
An astonishingly beautiful, irresistibly grim movie. 
 
The A.V. Club
Ignatiy Vishnevetsky
 
The visual and thematic palette immediately brings to mind Michael Cimino's once-maligned "Heaven's Gate" — except that The Immigrant accomplishes more in two hours than Heaven's Gate did in nearly four. 
 
Village Voice
Stephanie Zacharek
 
Gray has a knack for wrapping big themes into an intimate embrace, and The Immigrant feels both epic and fine-grained. 
 
Time Out New York
Keith Uhlich
 
You may often find yourself second-guessing the film, questioning how—and if—it will all come together. But by the time of the intense and impassioned climax, a storm of emotion is ensured: a great movie rising before you like a delusion, like a dream.
Admission Prices*:
General: $10.00
Seniors, Students and Active Military: $9.00
Members: $8.00
Children 12 and under: $7.00
Bargain Matinee Prices (all shows before 6:00pm)
General: $8.00
Members: $6.00
Children 12 and under: $5.00
Add $2.00 to the above prices for 3D screenings.
 
Your membership with the Lincoln Theatre saves you $2.00 per film ticket.
 
*All prices include a $1.50 Preservation Fee that goes directly into our capital account for preservation of the Lincoln Theatre and its programs. Film tickets are only available at the door beginning 45 minutes before the first screening of the day. This saves you, the ticket buyer the fees associated with purchasing online. Never fear – there are plenty of seats!
 
Monday film screenings are part of the Lincoln Theatre Member Mondays! Click here for details.
 
Film dates and times are subject to change and extended runs. Please check back here, or our phone message at 360.336.8955, day of show.