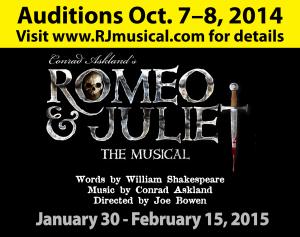 Wednesday, Oct 8, 6:00 pm
Auditions for Romeo and Juliet the musical
 
META Performing Arts presents auditions for the world premiere of Romeo and Juliet the musical. Auditions will be Tuesday, Oct. 7 and Wednesday, Oct. 8 from 6-9 pm at the Lincoln Theatre, Mount Vernon, WA. To sign up for auditions email caskland@gmail.com - Walkups welcome, but preference will be given to those signed up in advance.
 
More info on auditions and the RJ production at http://www.RJmusical.com
 
Romeo and Juliet the musical is a new musical score by Conrad Askland (http://www.ConradAskland.com). He is the current music director for Rock of Ages, New York NCL and the international dance hit Burn the Floor, and former music director for Cirque Du Soleil, China. His previous musicals include "PAN" and "Witches!".
 
Directed by Joe Bowen, this production of Romeo and Juliet is set entirely to the original words of William Shakespeare. Huzzah!
 
The character age ranges are 14 through adult.