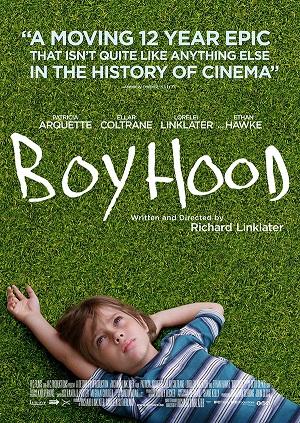 Saturday, Oct 18, 7:30 pm
Wednesday, Oct 22, 7:30 pm
Probably the best reviewed film of the year, filmed over 12 years with the same cast, Richard Linklater's Boyhood is a groundbreaking story of growing up as seen through the eyes of a child named Mason (Ellar Coltrane), who literally grows up on screen before our eyes.
 
Starring Ethan Hawke and Patricia Arquette as Mason's parents and newcomer Lorelei Linklater as his sister Samantha, Boyhood charts the rocky terrain of childhood like no other film has before and is both a nostalgic time capsule of the recent past and an ode to growing up and parenting.
 
Director:  Richard Linklatter
 
Starring: Ellar Coltrane, Ethan Hawke, Bonnie Cross, Patricia Arquette, Lorelei Linklater, Elijah Smith, Ellar Salmon,  Libby Villari,  Marco Perella,  Steven Chester Prince
 
What the critics are saying:
Certified Fresh on Rotten Tomatoes
Epic in technical scale but breathlessly intimate in narrative scope, Boyhood is a sprawling investigation of the human condition.
New Orleans Times-Picayune
Mike Scott
 
The greatest movies, the ones that stick with us, are those that hold up a mirror to the human condition and reflect something back at us that we too often manage to overlook. Boyhood is one of those movies, and with it Linklater proves he is among the best practitioners of that art.
 
St. Louis Post-Dispatch
Joe Williams
 
The film would be incalculably different if the lead role had been divided between two or three young actors for a conventional shoot. But Linklater's patience allows us to see a thoughtful personality being formed both on and off the screen.
 
Tim
Richard Corliss
A home movie of a fictional home life, an epic assembled from vignettes, Boyhood shimmers with unforced reality. It shows how an ordinary life can be reflected in an extraordinary movie.
 
San Francisco Chronicle
Mick LaSalle
 
I'm as reluctant to stop writing about this movie as I was to stop watching it: At 166 minutes, it flies by, and you don't want to leave that world. But one thing is certain: This isn't the last word. People will be writing about this film for years - and looking at it to discover the lost history of our time.
 
Philadelphia Inquirer
Steven Rea
Is it dumb to say, "Wow?"...I don't care. Wow.
Admission Prices*:
General: $10.00
Seniors, Students and Active Military: $9.00
Members: $8.00
Children 12 and under: $7.00
Bargain Matinee Prices (all shows before 6:00pm)
General: $8.00
Members: $6.00
Children 12 and under: $5.00
Add $2.00 to the above prices for 3D screenings.
 
Your membership with the Lincoln Theatre saves you $2.00 per film ticket.
 
*All prices include a $1.50 Preservation Fee that goes directly into our capital account for preservation of the Lincoln Theatre and its programs. Film tickets are only available at the door beginning 45 minutes before the first screening of the day. This saves you, the ticket buyer the fees associated with purchasing online. Never fear – there are plenty of seats!
 
Monday film screenings are part of the Lincoln Theatre Member Mondays! Click here for details.
 
Film dates and times are subject to change and extended runs. Please check back here, or our phone message at 360.336.8955, day of show.