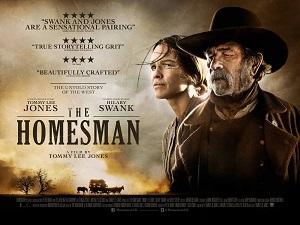 When three women living on the edge of the American frontier are driven mad by harsh pioneer life, the task of saving them falls to the pious, independent-minded Mary Bee Cuddy (Hilary Swank). Transporting the women by covered wagon to Iowa, she soon realizes just how daunting the journey will be, and employs a low-life drifter, George Briggs (Tommy Lee Jones), to join her. The unlikely pair and the three women (Grace Gummer, Miranda Otto, Sonja Richter) head east, where a waiting minister and  his wife (Meryl Streep) have offered to take the women in. But the group first must traverse the harsh Nebraska Territories marked by stark beauty, psychological peril and constant threat.
 
Director: Tommy Lee Jones
 
Starring: Hilary Swank, James Spader, John Lithgow, Miranda Otto, Sonja Richter, Tim Blake Nelson, Tommy Lee Jones, David Dencik, Grace Gummer and Meryl Streep
 
What the critics are saying:
 
Certified Fresh
Rotten Tomatoes
 
A squarely traditional yet somewhat progressive Western, The Homesman adds another absorbing entry to Tommy Lee Jones' directorial résumé.
 
The Hollywood Reporter
Todd McCarthy
 
This beautifully crafted film intrigues as a story never told before and ratchets up dramatic interest through a succession of unexpected turns.
 
McClatchy-Tribune News Service
Roger Moore
Jones tells this story with care and a lack of hurry, a pace to fit an age when people traveled no faster than two mules pulling a wagon could carry them. It's "True Grit" and "The African Queen" with a moment of "Lawrence of Arabia," period-perfect and a total immersion in this world.
 
Salon.com
Andrew O'Hehir
Jones, as always, knows what he's doing. In only his second feature as a director, the laconic 68-year-old star has made a wrenching, relentless and anti-heroic western that stands among the year's most powerful American films.
Admission Prices*:
General: $10.00
Seniors, Students and Active Military: $9.00
Members: $8.00
Children 12 and under: $7.00
Sunday Bargain Prices
General: $8.00
Members: $6.00
Children 12 and under: $5.00
Add $2.00 to the above prices for 3D screenings.
Your membership with the Lincoln Theatre saves you $2.00 per film ticket.
*All prices include a $1.50 Preservation Fee that goes directly into our capital account for preservation of the Lincoln Theatre and its programs. Film tickets are only available at the door beginning 45 minutes before the first screening of the day. This saves you, the ticket buyer the fees associated with purchasing online. Never fear – there are plenty of seats!
 
Monday film screenings are part of the Lincoln Theatre Member Mondays! Click here for details.
 
Film dates and times are subject to change and extended runs. Please check back here, or our phone message at 360.336.8955, day of show.