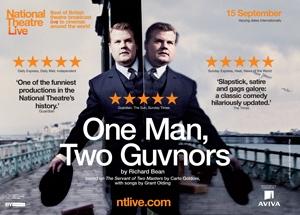 Friday, September 16, 2011 - 7:30pm
Sunday, September 25, 2011 - 2:00pm
Tickets on sale soon - $15 General / $13 Senior / $11 Student with $2 for Lincoln Members. Season package available.
One Man, Two Guvnors

by Richard Bean
 
The first play from NT Live's 2011-12 season based on The Servant of Two Masters by Carlo Goldoni with songs by Grant Olding.
Fired from his skiffle band, Francis Henshall becomes minder to Roscoe Crabbe, a small time East End hood, now in Brighton to collect £6,000 from his fiancee's dad. But Roscoe is really his sister Rachel posing as her own dead brother, who's been killed by her boyfriend Stanley Stubbers.
Holed up at The Cricketers' Arms, the permanently ravenous Francis spots the chance of an extra meal ticket and takes a second job with one Stanley Stubbers, who is hiding from the police and waiting to be re-united with Rachel. To prevent discovery, Francis must keep his two guvnors apart. Simple.
Rachel: Are you seriously suggesting that we men, are, day to day, moment to moment, making thousands of small tactical decisions, the cumulative effect of which is to reduce the time between leg-overs?
Francis: I can't speak for you guv, but that is a fair description of my life.
In Richard Bean's English version of Goldoni's classic Italian comedy, sex, food and money are high on the agenda. James Corden returns to the National for the first time since The History Boys to play Francis.
 
One Man, Two Guvnors
Cast credits:
Gareth - David Benson
Stanley Stubbers - Oliver Chris
Ensemble - Polly Conway
Francis Henshall -James Corden
Ensemble - Jolyon Dixon
Alfie - Tom Edden
Doctor - Martyn Ellis
Ensemble - Derek Elroy
Lloyd Boateng - Trevor Laird
Pauline Clench - Claire Lams
Ensemble - Paul Lancaster
Ensemble - Fergus March
Ensemble - Gareth Mason
Charlie Clench - Fred Ridgeway
Alan - Daniel Rigby
Rachel Crabbe - Jemima Rooper
Ensemble - Clare Thomson
Dolly - Suzie Toase
Production credits:
 
Director - Nicholas Hytner
Associate Director - Cal McCrystal
Designer - Mark Thompson
Lighting Designer - Mark Henderson
Music - Grant Olding
Sound Designer - Paul Arditti
Fight Director - Kate Waters
 
Reviews
***** Daily Express, Guardian, Sunday Times
 
**** Daily Telegraph, Evening Standard, The Times, Time Out
'The feelgood hit of the summer. An evening of riotous delight… I found myself physically incapable with laughter.' Daily Telegraph
'A triumph of visual and verbal comedy. One of the funniest productions in the National's history.' Guardian http://www.guardian.co.uk/stage/2011/may/25/one-man-two-guvnors-review
'Slapstick, satire and gags galore: a classic comedy hilariously updated.' The Times
Evening Standard – 4 stars http://www.thisislondon.co.uk/theatre/review-23953523-one-man-two-guvnors-is-a-surefire-hit.do
Daily Mail http://www.dailymail.co.uk/tvshowbiz/article-1390631/FIRST-NIGHT-REVIEW-One-man-Two-Guvnors.html?ito=feeds-newsxml 
 
Other confirmed titles in the new season include (performance dates still tentative):
 
The Kitchen: October 6th
 
1950s London. In the kitchen of an enormous West End restaurant, the orders are piling up: a post-war feast of soup, fish, cutlets, omelettes and fruit flans.  Fifteen hundred customers an' half of them eating fish. I had to start work on a Friday. Thrown together by their work, chefs, waitresses and porters from across Europe -- English, Irish, German, Jewish -- argue and flirt as they race to keep up. Peter, a high-spirited young cook, seems to thrive on the pressure. In between preparing dishes, he manages to strike up an affair with married waitress Monique, the whole time dreaming of a better life. But in the all-consuming clamour of the kitchen, nothing is far from the brink of collapse.   We all said we wouldn't last the day, but tell me - what is there a man can't get used to? Arnold Wesker's extraordinary play premiered at the Royal Court in 1959 and has since been performed in over 30 countries. THE KITCHEN puts the workplace centre stage in a blackly funny and furious examination of life lived at breakneck speed, when work threatens to define who we are.  Directed by Bijan Sheibani (an NT Associate Director).  THE KITCHEN features an ensemble of 30 people and is set in a kitchen, using real food and with actors actually cooking and preparing food on stage -- it is a tour de force spectacle and has been frequently performed all throughout Europe since its first appearance.
 
Collaborators:  December 1st
 
Collaborators, opening in October is a new play by John Hodge (screenwriter of Trainspotting, Shallow Grave, The Beach) directed by National Theatre Artistic Director Nicholas Hytner.  The play centers on an imaginary encounter between Joseph Stalin and the playwright Mikhail Bulgakov (best known for his novel The Master and Margarita); Alex Jennings (The Habit of Art) will play Bulgakov and Simon Russell Beale (London Assurance) will play Stalin. 
 
TBA: January 26th
 
The Comedy of Errors:  March 1st 
 
Dominic Cooke, Director of the celebrated Royal Court Theatre in London, comes to the National Theatre for the first time to direct Shakespeare's The Comedy of Errors, opening in the Olivier Theatre in late November and continuing in repertoire until March 2012.  Famed U.K. comedian and actor Lenny Henry makes his NT debut as Antipholus of Syracuse.