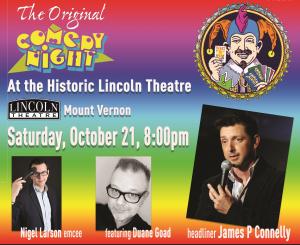 Saturday, October 21, 2017 - 8:00pm
All seats: $20 + applicable fees!
For over 20 years the The Skagit-Mount Vernon Kiwanis have held their Original Comedy Night at the Lincoln. Net proceeds from this show are returned to our community for assistance to Skagit area kids and other community needs. A good time for a good cause!
This year's line-up includes:
Headliner: James P Connolly; Featuring Duane Goad
James P. Connolly is a stand up comedian and radio/TV host known for his playful, confident style and unique sense of humor.
He attended Harvard University on a Marine Corps ROTC Scholarship. While serving in Desert Storm, he was ordered to write jokes for a Colonel. Arriving in Hollywood, he began to perform at LA's major comedy venues and soon popped up on television, commercials, and in small films.
James has appeared on Comedy Central, HBO, VH1, Comics Unleashed, hosted "Live From Here" for National Lampoon XM Radio, is a frequent guest on the nationally syndicated Bob and Tom Radio Show and recently recorded a "Blue Collar Radio Comedy Concert" for SiriusXM, as one of their most requested acts. James has made multiple trips overseas to entertain the troops and produces an annual Veterans Day Comedy Show benefiting the Semper Fi Fund. He is currently the host of  "Vet on the Street" for We Are The Mighty TV.
Featuring Duane Goad:
Duane Goad is a Canadian born, Seattle based comedian who has entertained audiences all over the U.S. & Canada with his quick, sarcastic and self-depricating style of comedy
He has performed at some of North America's top comedy clubs including, Yuk Yuks, The Improv and Comedyworks. Duane has been seen at numerous comedy festivals including Funny or Die's Oddball Comedy Festival, The Las Vegas Comedy Festival, The Bumbershoot Arts Festival and The Vancouver Comedy Festival and was a finalist in the Seattle International Comedy Competition. As an opening act, Duane has performed with Jim Gaffigan, Bill Burr, Damon Wayans, Brad Garrett and The Impractical Jokers as well as music superstars Earth Wind & Fire & The Jacksons.
As an actor, Duane has been seen and heard in numerous commercials including The FX Network, Gillette Razors, Ford and Microsoft. Northwest television audiences may recognize Duane from his appearances on the popular Seattle-based sketch comedy shows 'Up Late NW' and  'The 206'.
and emcee Nigel Larson:
Nigel Larson, teller of joke, player of video games, guy you're generally okay with dating your daughter. A handsome devil who's travelled the world, and done stand-up for almost a decade performing in every conceivable venue. He's a smart cat with a crooked smile, a leather jacket and a way of seeing life from a different perspective. So why don't you come sit a while, and listen.
The Skagit-Mount Vernon Kiwanis wish to thank their generous sponsors: Skagit Valley Mobile Manor, Rat Rimmer Les Schwab, Jet City Pizza, Skagit Bank, Bob's Burgers and Brews, College Way Self Storage, Denny's, Guardian Northwest Title, Win Home Inspection, Truck Vault, and Gilbert & Gilbert Lawyers.