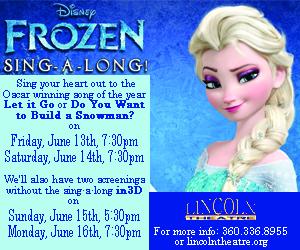 Saturday, Jun 14, 7:30 pm
It's the first weekend of Summer Break, a good reason to sing your heart out to the Oscar winning song of the year Let it Go or Do You Want to Build a Snowman? Well, on Friday and Saturday night you can! If you have kids, you're probably hosting a de facto Frozen sing-along in your house all day every day anyway, so why not multiply the cuteness a hundredfold and take your spawn to one of Disney's newly announced Frozen sing-along screenings? A special version of the Disney smash hit will play with "on-screen lyrics with a magical bouncing snowflake to follow along."
If you really want to go all out, Friday Night's sing-along will be an evening dedicated to all the ladies!  We're partnering with Skagit Running Company's Run Like a Girl 5K at 6:00pm that evening (more info here). After the run, come to the Lincoln and treat yourself to a frozen margarita and we'll let you lovers of movie musicals actually sing along--full voice--instead of murmuring under the soundtrack! Pre-register in person or on the day of the event at Skagit Running Company. 
Then on Saturday night, Princess Anna from Enchanting Princess Events will be here from 6:30 - 7:30pm. You'll be able to have your photo taken with her for a donation of any amount to the Enchanting Fall Ball fundraiser for the Children's Museum of Skagit Valley. We'll have special treats including a Snowman Puddle punch for the kids!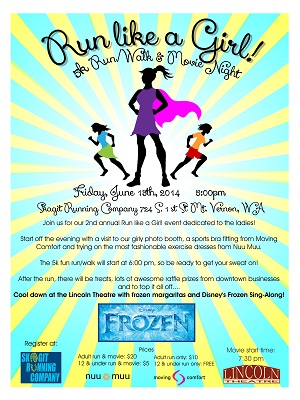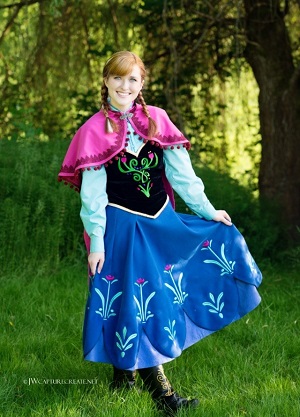 We'll also have two screenings without the sing-along (in3D) for those of you who'd rather watch (and listen) to this wonderfully animated film in peace.
Featuring the voices of Kristen Bell and Idina Menzel, Frozen is the coolest comedy-adventure ever to hit the big screen. When a prophecy traps a kingdom in eternal winter, Anna, a fearless optimist, teams up with extreme mountain man Kristoff and his sidekick reindeer Sven on an epic journey to find Anna's sister Elsa, the Snow Queen, and put an end to her icy spell. Encountering mystical trolls, a funny snowman named Olaf, Everest-like extremes and magic at every turn, Anna and Kristoff  battle the elements in a race to save the kingdom from destruction.
Director:  Chris Buck, Jennifer Lee
Starring:  Kristen Bell, Idina Menzel and Josh Gad
What the critics are saying:
Certified Fresh on Rotten Tomatoes
"Beautifully animated, smartly written, and stocked with singalong songs, Frozen adds another worthy entry to the Disney canon."
Los Angeles Times
Betsy Sharkey
Frozen is fabulous. 
The Playlist
Drew Taylor
As far as animated movies go, it doesn't get that much better than Frozen. It's a new Disney classic. 
Arizona Republic
Bill Goodykoontz
Frozen is a delightful animated musical, a return to form for Disney animation with an intriguing story and terrific songs. 
Chicago Sun-Times
Richard Roeper
Disney's Frozen works beautifully as a timeless fairy tale with a modern twist. 
Miami Herald
Rene Rodriguez
Has the ring of classic Disney seamlessly combined with a modern-day sensibility. 
New York Post
Kyle Smith
A great big snowy pleasure with an emotionally gripping core, brilliant Broadway-style songs and a crafty plot. 
Tampa Bay Times
Steve Persall
Frozen impresses by conveying coldness in all its frostbitten beauty, from northern lights and blizzards, to ice magnifying, refracting and reflecting light. The movie is a lovely example for animation enthusiasts to study.
Admission Prices*:
General: $10.00
Seniors, Students and Active Military: $9.00
Members: $8.00
Children 12 and under: $7.00
Bargain Matinee Prices (all shows before 6:00pm)
General: $8.00
Members: $6.00
Children 12 and under: $5.00
Add $2.00 to the above prices for 3D screenings.
 
Your membership with the Lincoln Theatre saves you $2.00 per film ticket.
 
*All prices include a $1.50 Preservation Fee that goes directly into our capital account for preservation of the Lincoln Theatre and its programs. Film tickets are only available at the door beginning 45 minutes before the first screening of the day. This saves you, the ticket buyer the fees associated with purchasing online. Never fear – there are plenty of seats!
 
Monday film screenings are part of the Lincoln Theatre Member Mondays! Click here for details.
 
Film dates and times are subject to change and extended runs. Please check back here, or our phone message at 360.336.8955, day of show.