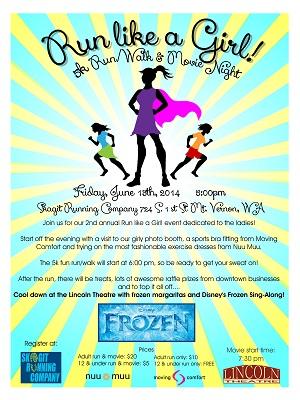 Friday, June 13, 2014 - 6:00pm
An evening dedicated to the ladies! Join us for a fun, girly evening full of fashion, treats, prizes, discounts, running and a girl power movie!
The goal of this event is to get out with the girls and have a great time while enjoying what downtown Mount Vernon has to offer! The run/walk will be timed, and is geared to be non-competitive exercise for all ages and paces. Pre and post run festivities include a dress-up photo booth, raffle prizes from downtown businesses, treats, fun music and more! Participants also get 20% off apparel and 15% off shoes at Skagit Running Company!
Cool down after the run/walk at the Lincoln with frozen margaritas (real & virgin) and Disney's Frozen Sing-along for a perfect Girls Night Out!
We got together with Skagit Running Company and hope this partnership will be a shining example of what a great community we have here in downtown Mount Vernon.
There will also be an opportunity to win a day of pampering when you become a member (new or renewing) of the Lincoln that night.
Pre-register in person, or on the day of the event, at Skagit Running Company (or pick up a form at the Lincoln).
Run start: 6:00pm, Frozen; the Sing-Along at 7:30pm.
Adult run & movie, $20
Adult run only, $10
Child 12 & under run & movie, $5
Child 12 & under run only, FREE