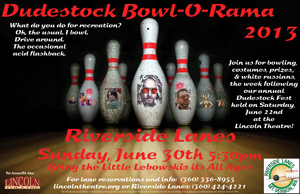 Reserve your lane now for three games at $25 (little Lebowskis 10 and under $15) online here or by calling Riverside Lanes or the Lincoln.
 "What do you do for recreation?"
"Oh, the usual. I bowl. Drive around. The occasional acid flashback."
Following last weeks Lebowski festivities, Dudestock 2013, we have something special planned to keep all of you 'Achievers' happy. Join the Lincoln Theatre at Riverside Lanes for an evening of bowling, costumes, prizes, white russians, beer, food and the occasional acid flashback!